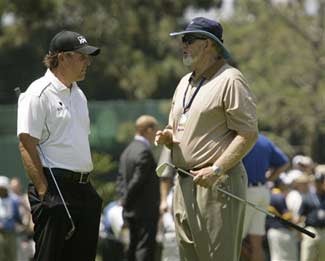 We don't know much about golf, but we do know that The U.S. Open Is Important. Therefore, with the Tiger Watch teeing off tomorrow, we asked resident golf impresario Shane Bacon, of Dogs That Chase Cars, to preview it for us. So here goes.
Phil Mickelson is a choke artist.
That isn't to say he's a bad guy who beats his cats (come on, you know this guy has cats), but he is the guy that front-rims a jumper when it's game point or the dude that takes a called strike three right down the heart of the plate.
I know, I know, Phil is the second best golfer of our generation. Hell, one of his leg hairs has more talent than most golfers could ever wet dream about. The problem is, he's lost that appeal he used to have with the golfing public.
See, everyone has a title. That guy that sits down the hallway that constantly gets bitched out by his superior? Yeah, that guy is life's toilet bowl, someone you can sit on and give all your shit to and not really worry about when you're finished. No matter how hard Kobe Bryant tries, he will always be considered a selfish prick and Phil was always our loser. Lefty tried to change his persona over the last few years and it got people confused.
Normal people can't relate to Phil Mickelson. Nobody on this planet walks around with a grin like Phil has and nobody in this world has a family as happy as his seems. What we could relate to with him was his losing. He'd play a golf tournament beautifully, like the 1999 U.S. Open, get in position to take the title and all of a sudden, Payne Stewart makes a putt he probably shouldn't have made. The same could be said about the 2001 PGA Championship or any of the three Masters preceding his breakthrough victory in 2004. Mickelson had all this in his life, but never could get exactly what he wanted and that seemed human to us. We believed him.
Now Mickelson doesn't have that and people have lost their compassion for Mickelson. He is leading the Masters and you aren't that excited. He wins the Players Championship and you change the channel before his speech. You having nothing that brings you to him anymore (except maybe his constant battle with weight).
The U.S. Open is different to Mickelson. Sure, he hasn't won the British either, but he's only finished in the top-10 once across the pond. He won't win the Claret Jug and that's fine, Roger Federer probably won't ever win at Roland Garros. The thing is, Mickelson was built to win the U.S. Open.
He's finished second four times and a tie for fourth once. He's had two wrapped in his grip and instead of holding on with both hands he just made two double-bogeys instead, once in 2004 and once at Winged Foot in '06. People still root for him at these events, because he's had the tip in, he just hasn't closed the deal.
Starting Thursday, Mickelson will again be the bridesmaid. Not only will he know it, he'll see it, shot for shot. The difference this week is, as the stars have aligned, Phil is the favorite. Mickelson has a chance to take advantage of a lame Woods, the first time in our lives where something other than conditions and family has played a factor in decided Tiger's outcome. Nobody can predict how Tiger will do after nearly eight weeks off from competitive golf, but the one person that can do something is Phil Mickelson. I'm the biggest preacher in the world that golf tournaments are bigger than two people but this one isn't, it's about two versus one, Better versus Best, Phil versus Tiger.
If Mickelson could somehow win this week, he'd have as many major championships in the last five seasons as Tiger. Mickelson has a chance to let people know that he is far from that loveable loser and is a little bit of a badass. He can go from "Where Did Our Buddy Phil Go?" to "Wow, He's Becoming a Fucking Motherfucker!"
As unpredictable as a U.S. Open can be, this could just be babble that disappears when the first one shoots 74, but the public is allowing Mickelson this opportunity to do something he's never done – shut down the Greatest.
If he could do it emphatically, staring down the nose of Tiger Woods, he'll gain a lot of respect that he's lost over the years. If he doesn't, he'll continue to be a boring, played out dick joke.