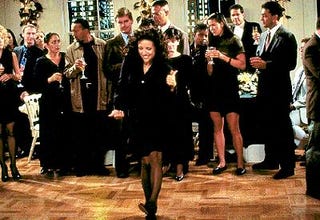 Time to put down your drink, turn up the music (it''s Shining Star by Earth Wind and Fire, I believe) and step to the rhythm of Minor Enterprise. Come on, who's dancing?
Hard to believe that it's been 10 years since Seinfeld went into self-imposed retirement, and it's an anniversary that hasn't gone unnoticed by the Ft. Myers Miracle of the Class A Florida State League. Tonight is "We Love The Drake Night" at Hammond Stadium, the most elaborate Seinfeld tribute ever staged in a professional baseball setting (and I've seen them all). Sweet fancy Moses!
"The promo is for lovers of Seinfeld like myself," said Miracle director of promotions Gary Sharp. "The diehards get the reference to "The Drake," and we are doing the usual giveaways of DVD's and Seinfeld merchandise." But the greatest component of this gala evening will no doubt be the Elaine dance-off, in which all dancers who are worse than Elaine Benes will win a prize. I just can't imagine the horror of that (see video below) ... won't someone please think of the children!? But tickets are going fast so act now.
The Miracle will also have a comedian performing on the party deck, and the concession areas will be stocked with Junior Mints. As for Michael Richards' unfortunate stand-up career, the team will have on hand a local organization that promotes sensitivity awareness. Also, a local "Soup Nazi" franchise will be at the game, and for any girl that is accompanied by three other guys, the whole group gets in free. Plus, Superman is throwing out the first pitch!
Elsewhere in minor league promotions:
• Dukes Of Hazzard Night. Tonight, West Virginia Power (Class A South Atlantic League). Wear your Daisy Dukes and get in half price (men not eligible).
• Spooktacular Friday The 13th Celebration. Friday, Fresno Grizzlies (Class AAA Pacific Coast League). Billed as the most spine-chilling night of the year at Chukchansi Park (which I'm sure is saying something), the Grizzlies will wear special Friday the 13th-themed jerseys in their series opener with the Portland Beavers. Every player on the field will be wearing No. 13, and the jerseys will be auctioned off following the game with the proceeds going to benefit the Central California Blood Center.
• Hairy Scary Back Contest. Friday, Hickory Crawdads (Class A South Atlantic League). This contest to choose the hairiest and scariest back will result in a prize basket that includes a free laser hair removal procedure. If I hadn't already won a similar promotion last season I would so be there.
• Jessica Simpson Night. July 6, Grand Prairie AirHogs (Independent American Association). Being rebuffed in the Tony Romo no-kissing booth is worth the price of admission by itself.
• Animal Team Name Not Found In Nature Of The Week. North Adams Steeplecats, NECBL Summer Wooden Bat League.
• Mascot Of The Week. Splash, Stockton Ports (Class A California League). I'm fairly confident that Splash is the only wheelchair-bound mascot in professional baseball. How he got the job is anyone's guess, but you have to admire his pluck; if not his routines, which tend to lack variety. How was this plush, lovable character crippled? I'm pretty sure he was trampled by steers at a Mexican rodeo, although that's not confirmed. At any rate children seem to love Splash; especially when he barks commands at them to "fetch me a bagel dog!" or "come in here and help me pee!" You just don't see whimsical antics like that in the majors.
(NOTE: Splash not really wheelchair-bound, just lazy.)
We want your minor league tips! Send game reports, photos or promotional news to RickChand@Gmail.com. Who's with me? Let's goooooooo!