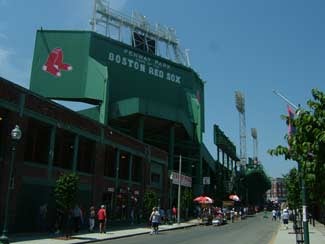 The Leitch family is heading to the East Coast next weekend to make their first visit to the city of Boston; it is just our good luck that the once-every-five-years trip to Fenway happens to coincide with injuries to the Cardinals' two best players. (Not that we're not winning nevertheless, mind you.) But we're gonna have to make sure Mom, an emergency room nurse notoriously paranoid about germs, doesn't touch the food.
Turns out, Fenway Park's food failed numorous health inspections on opening day. It's kinda ugly.
In the initial visit, on April 1, inspectors found sausages thawing in stagnant water, employees handling raw burgers without changing their gloves, and rodent droppings underneath service counters, city records show.
Apparently the problems have been "fixed," as much as you can "fix" such a problem, but we're actually a little surprised anyone even bothers inspecting food at sporting events, Aramark aside. Isn't getting the risk of the food killing you part of the exquisite joy that our nation's sports provide?
Fenway Food Stands Failed Inspections [Boston Globe]