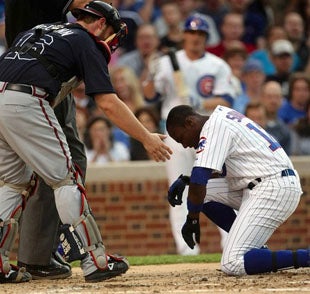 For all of those who thought that fate had given the Cubs a pass this season; for all who doubted The Curse and figured that 100 years of futility were enough, well, think again, Mojambo. Take a look at your roster tomorrow and notice that heaping helping of Micah Hoffpauir, where Alfonso Soriano should be. What in the world did the Cubs do to piss off God this badly? Holy crap.
A couple of hours later in a 7-2 victory over Atlanta, Soriano was hit on the left hand on an 0-2 pitch by Braves pitcher Jeff Bennett in the second inning, suffering a broken bone that will force him to miss at least six weeks. "A costly loss," Cubs manager Lou Piniella said. "No question. He was starting to run the way we thought he would, playing well in the outfield. It's a bad break for us, just an unfortunate thing. But these things happen in baseball."
And they especially happen to the Cubs, who had thought that, finally, they were curse-proof. Chicago enjoys the best record in the majors, and Soriano was a big part of that, hitting .284 with 40 RBI and 15 home runs. Taking his roster spot will be Micah Hoffpauir, up from the Class AAA Iowa Cubs, with Ryan Theriot moving into Soriano's leadoff spot. Sorry, no Barry Bonds or Sammy Sosa.
Bennett himself was a replacement; for Jair Jurjjens, the Braves' starter who injured his ankle falling down the dugout steps after Tuesday's game. Yep, God was working overtime on this one.
Typically though, Cubs fans are pretending all is well. No panic here. Nope. (Pause) AHHH! From Bleed Cubbie Blue:
Fun, right? Isn't that what this season has been? The Cubs will miss Alfonso Soriano, but they'll be just fine. That's the method of the 2008 Cubs. Hats off to Ryan Dempster this morning. He threw a great game and gave the bullpen the night off, which they sorely needed. Let's sweep this series today.
Poor saps. It's like the past 100 years have taught them nothing.
And I don't know if this will help or hinder, but the Cubs will wear their 1948 home uniforms today in their game on WGN against the Braves (2:10 p.m., ET) as a tribute to their 60th season of baseball on the station. They're even going to televise some innings in black and white, with no replays or graphics.
Soriano Out 6 Weeks With Broken Hand [Chicago Tribune]