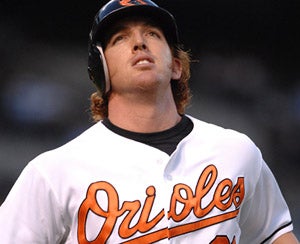 After his rather famous letter to 29 major league teams recently in which he asked for another shot at baseball with a minor league contract, former Oriole and HGH connoisseur Jay Gibbons was rather surprised to get exactly zero offers. But determined to get back into the game somehow, Gibbons has prevailed. It's just s step down from where he figured to be.
Former Orioles outfielder and club Most Valuable Player Jay Gibbons will return to professional baseball next week with a team in the independent Atlantic League. Gibbons, whom the Orioles released in March, several months after he admitted to using human growth hormone and agreed to a Major League Baseball-imposed suspension, said he expects to sign with a New York- or New Jersey-based Atlantic League club by today and should be in uniform within days.
Gibbons, 31, is already guaranteed $11.9 million by the Orioles for the 2008 and 2009 seasons, but said that he just wanted to get back into baseball because he loves the game. "I got some responses that were positive, but I never received a firm offer." he said of his letter, which was first obtained by ESPN.
So, which team do you suppose it will be? The Bergen Cliff Hawks? York Revolution? Bridgeport Bluefish? My money is on the Long Island Ducks. In addition to being the only pro baseball site that quacks when you call it up, it is also the former home of Jose Offerman, who tried to take a bat to a pitcher during a game last season, and John Rocker. And he may even score him a sweet Bud Harrelson bobblehead.
Gibbons To Join Atlantic League [Baltimore Sun]
Jay Gibbons Begs For A Shot In Letter [Sportsnet.ca]