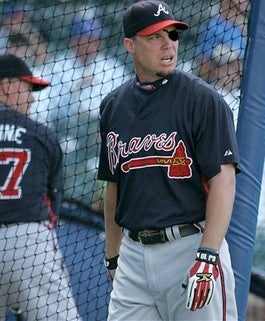 And I mean everything. Don't believe me? let's go through the ways. He's hitting for power, hitting for average, hitting lefties, hitting righties, hitting to all fields, hitting fastballs, hitting breaking balls, hitting sideways and slantways and longways and backways and frontways and squareways and any other ways you can think of, including hitting Pat Benatar with his best shot. He's doing it all. But can he hit his own eyesocket on a batting practice foul tip that ricochets off the tippy-top of the batting cage?
The answer, you might have guessed by now, is "probably not." But rounding up (truncating is for communists and unintelligent Initech layoffs), that's exactly what happened Friday before the Atlanta Braves game against the Angels of Los Anaheimos. Said hitting coach Terry Pendleton, "It squared him up for sure." Told ya he can hit it squareways.
Chipper's batting average coming into his optic mishap was a crisp .414. This injury could hurt his chances to hit .400 ... or if the injury's really bad, then technically it helped the cause.
In other Braves injury news:
• John Smoltz just had shoulder surgery, perhaps of the season-ending genre. No word if he'll come back as a middle reliever in an attempt to become the first 200-win 150-save 100-hold pitcher in history.
• Tom Glavine left Thursday's game with a sore elbow, and he didn't even bang it into the desk like the rest of us.
• Jair Jurrjens, off to a great start this year, sprained his ankle walking down the dugout steps. He was clearly preoccupied, wishing he was back in Detroit (make it happen, Schuerholz).
• Mark Kotsay threw out his back when he finally, finally got a Scrabble hand where he was able to spell out his own name.
• Mike Hampton (Killed in Vietnam by his own troops)
Chipper Hit In Face Taking Batting Practice [MLB.com]
Next For Braves: Swarm Of Locusts? [AJC Braves Blog]