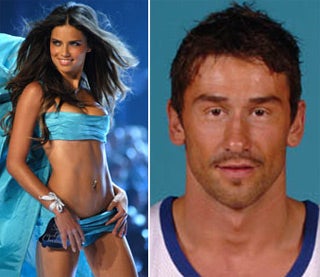 The gal on the left there, her name is Adriana Lima. (Just in case you wanted a name to go with the wet dream later on.) The guy on the right is some kind of basketball player named Marko Jaric. One of them has about 8½ million Google searches. The other, not even 200 grand. Hopefully Ms. Lima signs one of them pre-nups, else Jaric will be entitled to about four million of those results if their marriage, which they announced recently through an "en-gage-ment," falls through.
One must wonder why Lima was drawn to Jaric when she is definitely capable of a much more accomplished professional athlete, at which point one needs look no further than the old Serbian proverb: "Attractive women have eyes only for men whose eyes are tiny and average but 7.8 points a game for their careers."
Lima, it should be known, says she's a virgin. The evidence I have on this subject (I've never done it with her) seems to corroborate her story:
Well, you know, sex is just for after marriage.
Say what?
Sex is for after marriage.
Are you saying you're not going to have sex before marriage?
Exactly.
You mean you've never had sex?
That's why I have to say.
You sure about this?
Yes.
Hmm. Maybe "sex" is a Brazilian word for "tongue sandwiches." In that context, shouldn't we all be proud that we haven't had sex yet? Yeah? High five?
Adriana Lima Excited To Wed Her Fiance [eFluxMedia]