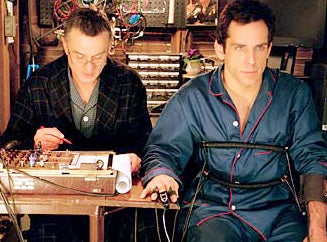 When I'm late for a plane, typically I do not need to stall the flight by some elaborate means. After all, the flight will find a way to be 2 hours late on its own! Ha-ah! [wacky Vaudevile jig] If only reporters late for their Euro 2008 assignment were so wise.
A German beat writer, en route from Verona to Vienna, checked in just five minutes before the flight. Aww, you're not gonna make it! What're ya gonna do?
The 27-year-old reporter, who has not been identified, called police saying a bomb had been planted on the Air Dolomiti flight to Vienna on Wednesday, police in northern Verona told Reuters by telephone on Thursday.

The airport was closed for about two hours and two incoming flights were forced to land at another airport
Quite a brilliant piece of police work they did here. Turns out they had caller ID, and the number was identical to the reporter's cell phone. Which is why you always carry out phony bomb threats via carrier pigeon.
German Reporter Stages Bomb Scare When Late For Plane To Euro 2008 Match [The London Paper]