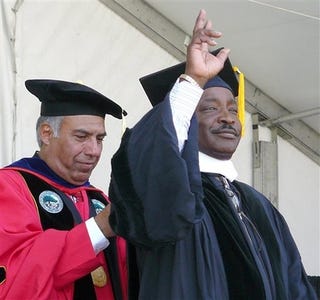 Caught up in all the hysteria this weekend was Joe Morgan being awarded an honorary doctorate from California State University-East Bay. Don't be too impressed, because I'm pretty sure one summer those came free with the purchase of an In-N-Out Burger combo of equal or lesser value.
So to honor his honorary honor, we'll let Joe Morgan pick the players of the games in today's closer. Well, I'm not asking him specifically, but I have read enough Fire Joe Morgan to understand how this works.
• Whiteout. There was some exceptional pitching by the Colorado Rockies to blank the White Sox in Chicago, 2-0. Jorge De La Rosa, Jason Grilli, Taylor Buchholz and Brian Fuentes all helped to pitch a shutout. So who's the player of the game? How about Willy Taveras, who stole five bases. Oh, sure, none of those steals led to Taveras scoring, but ... stolen bases! Those are hard.
• They're Ba-ack. The Yankees have won eight of 11 and are back in this season thing with an 8-4 smothering of the Houston Astros. Mike Mussina is now at 10-4 on the season, and a lot of Yankees batters contributed, so Joe Morgan will go with Derek Jeter as the player of the game. Granted, he went 1-for-5 with no RBI, runs, or an error, but that's because he doesn't need to prove himself day in and day out. We already know he's special.
• Dramatic-O's. There was a wild one in Baltimore, won by the Orioles 8-7 after a 2-run rally in the ninth. Oscar Salazar's solo home run and Ramon Hernandez's game-winning single sealed the win over the PIttsburgh Pirates. Joe Morgan's player of this game? That's right. It's Dave Concepcion.