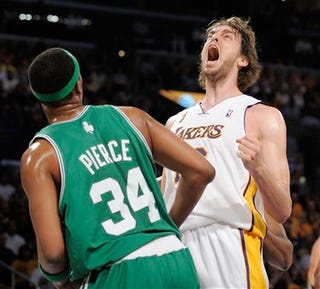 Either Pau Gasol is fired up or is auditioning for the role of General Zod in the upcoming feature, Superman IX: Invasion Of the Cassell Clones. But despite a three-point lead for LA, it doesn't look good for them. Hell, even David Spade is pissed. Will the series end tonight? Or will I be tempted to lively blog the sixth game on Tuesday night? Look within for the answers in the second half live blog.
——————————————————————————
Fourth Quarter
:16.7 — You ordered your Game 5 medium-well? Then I do believe the game has been cooked to perfection and is on its way to the dinner table. Do you need anything else? Wet naps? Ketchup?
:24.8 — The rarest of animals! Three missed free throws by Derek Fisher tonight. Don't get too close, it might scurry away. One of two goes in, and it's 100-95 Lakers.
:26.8 — Oof. What I'd like to see is a FG percentage chart of tip rebounds for the Celtics. Lakers ball with a four-point lead.
:37.4 — Just when things were looking Boston-y, Bryant strips the ball, gets it back on the outlet pass, and makes a "0-foot basketball shot," known in non-Euclidean scientist jargon as a "slamming dunk."
1:14 — Or not? Paul Pierce knocks down a tandem of free shots, and he's got 38 points. Lakers lead by two.
1:37 — An offensive board on the LA side. Even more probable still.
2:02 — With a four-point lead, the Lakers coyly allow about 17 offensive rebounds, but none of the tip-ins connect. A Game 6 looks very probable.
2:31 — There's ten minutes left in Father's Day, and I still haven't gotten him anything yet, so part of that gift will be sharing the IM he just typed to me: "the aerial coverage by Goodyear adds a special dimension to this basketball game."
Here's an idea. If this game's tied after 48, rather than play overtime, they should just play another regulation game immediately after the U.S. Open.
3:31 — In a five-second span, both Paul Pierce and Kevin Garnett collect their fifth fouls. Which means Chris Mihm found a way to channel his spirit into the Celtics defense. I guess when you spend so much time on the bench, mastery of the metaphysical is only common sense.
4:33 — So the game begins. Garnett's jump shot ties the game at 90.
6:22 — Luke Walton defended Paul Pierce like he was the second-to-last guy still alive in the Rollerball championship. He basically ran at him, reached in, and fell to the ground. That's his fifth foul.
8:19 — Needs to be said again: Sasha Vujacic, stop taking shots.
8:35 — Sasha Vujacic, who should probably stop shooting the basketball, gets his own rebound, holds a jump ball with Sam Cassell, then remembers that commercial where the pick-up basketball players dive into the "water." Unfortunately, this particular court's hardwood is made of hard wood, and commercials are not real, so he just looked like a doofus flopping to the ground.
9:03 — Luke Walton extends the lead to 14, and there's Bill Walton smiling. And I mean smiling. Either he has two sets of teeth, or they caught him with a mouth full of Altoids.
10:17 — So, who had Jordan Farmar going off for a little burst of scoring?
11:03 — Lamar Odom is getting it all wrong. They're supposed to let Boston begin the quarter with a run.
Third Quarter
:03.1 — Ah, the formulaic story of the quarter. Pass, pass, miss. Pass, pass, miss. Pass, pass, tip, strip, pass, miss, tip, tip, tip, out of bounds, NBA Finals on ABC.
:37.4 — Eddie House's outlet pass crisply meets the scorer's table. Even though the scoring officails were open, they absolutely suck at shooting form there. Plus, they were standing out of bounds.
1:48 — Ray Allen misses about four shots in a row. But I still hold the world record.
3:36 — Eddie House's neck is bleeding, and yet nobody suspects Al Davis?
5:00 — And we finally have a run. Los Angeles is now up 71-64, and Boston takes a timeout. I guess with all these miraculous comebacks, you basically want to see someone build a lead and see if they can hold it.
5:17 — Okay, damn. Derek Fisher's glass-banking basket while being fouled was pretty sweet. Almost makes me want to praise the third quarter.
6:20 — Why did they make a PS3 video game based off the movie Delta Farce and name it Battlefield: Bad Company?
8:23 — This is what you call competitive, even-handed, basketball. Good defense, good offense, everybody's scoring, nobody's making a run, and it's a close game. In other words, your garden variety blasé third quarter of an NBA game. Would it be all right with everyone if I just wrote a dissertation on Mega Man until two minutes remaining in the fourth quarter?
10:26 — After precisely 47 offensive rebounds, a Ray Allen jumper finally ties the game.
So we were graced with a halftime special about how Bill Walton loves his son Luke. It'd be more intriguing if it was a feature about Chris Mihm's father disowning him after that inbounds pass. But that's why I'm not a TV producer.