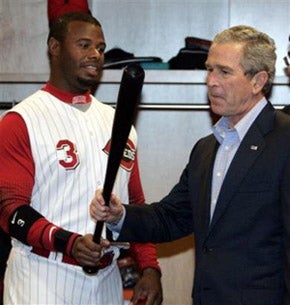 Ken Griffey Jr. is considering waiving his no-trade clause to move over to the Tampa Bay Rays, according to SI.com, and you know what that means: An aging-slugger arms race in the AL East. Tampa Bay's show of force will have to be met in kind by the Yankees, who of course will sign Barry Bonds the following day. Not to be outdone, the Red Sox lure Frank Thomas from the Athletics. Then the Orioles, a bit confused over what's going on, re-sign Sammy Sosa.
Griffey, a resident of Orlando, Fla., has a no-trade clause but would be interested in waiving it if he could be dealt closer to home to a contending team, SI.com reported, citing the unnamed sources. The 39-year-old right fielder is hitting .256 with seven homers and 30 RBIs this season. He is making $12 million this season and has a $16.5 million option for next season.
Dealing Griffey makes sense: Just look at this photo. The Reds would save thousands in wristbands alone. And Tampa needs both a right fielder and a DH (sorry, Cliff Floyd fans). Anyway I guess the Marlins are out, since signing Griffey would quadruple their payroll.
Griffey Reportedly Mulling OK For Deal To Rays [NBC Sports]