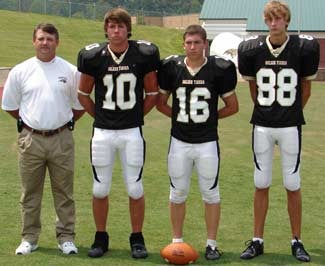 Who says the Arena Football League isn't fan-friendly? Before the Chicago Rush's game this weekend, kicker Paul Edinger — so THAT'S where he is! — tweaked his groin, which is never good. The Rush had no extra kickers ... so they held an open call for fans.
They found a guy who had actually tried out for the Bears against Edinger.
Joe O'Donnell, a friend and former teammate of Rush lineman John Moyer with the Florida Bobcats in 2000, had driven from Birmingham, Ala., with his wife to watch the game. Moyer called him and said the Rush needed a kicker.

O'Donnell was hurried into the locker room, given shoes, shorts, T-shirt and an emergency tryout, which was sufficient for coaches to put him on the roster in time for lineup submissions.
He made five-of-seven extra points, which isn't too bad, all told. There has to be an enterprising AFL owner out there somewhere who will make this a regular thing, right?
Somebody Get Me A Helmet. Quickly. [It's Still Football]