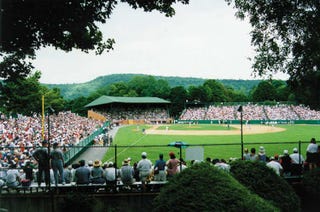 It's a sad day, folks: Today marks the last ever Hall of Fame game in Cooperstown, N.Y. As much fun as it might have been, it does seem like a pain for players, to go all the way to Cooperstown in the middle of the season for an exhibition game, though we do hope it throws the Cubs (who are playing the Padres there right now) off somehow.
There have been some spirited attempts to keep the game alive, but it looks like this is it. It has been a while since anything particularly noteworthy has happened during the game — the games this decade have been mostly sideshows — but the best game might have been in 1961, when the birth of Brooks Robinson's son was announced over the loudspeakers while he was on the field, and a light-hitting outfielder named Whitey Herzog hit a home run on a rooftop across the street.
We haven't been to Cooperstown in more than 20 years, but we kind of wish we were there today.
Save The Fame Game [Official Site]