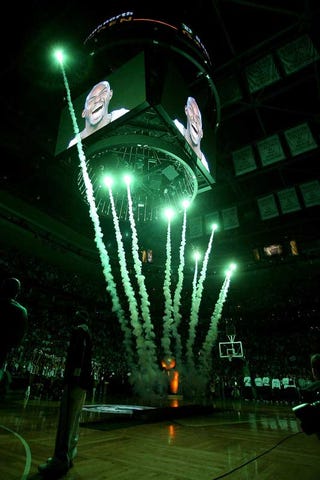 As mentioned last week, the Leitch family is heading to Fenway Park this Saturday — tentative pitching matchup: Josh Beckett vs. Mitchell Boggs. You're toast, Sox! — and we are hopeful that the Yawkey Way faithful will show us the appropriate respect. That is to say: We hope they won't throw anything heavy at us. If the Celtics can win either one of these two home games this week, we have to think they'll be in a good enough mood, right? Right?
We hope that Sox fans will remember how Busch Stadium security — in a move that's pretty magnanimous even for St. Louis fans — allowed Red Sox boosters outside the old Busch Stadium to watch the end of Game 4 of the World Series for free. You have to be nice to us now, right?
More to the point: For all the success, infuriating and otherwise, that the New England area has had to celebrate over the last few years, they've never actually clinched a title at home. Both the World Series wins were on the road, and the Super Bowl wins were, you know, at the Super Bowl. We are curious how Boston will handle a hometown championship win.
If it happens, of course.