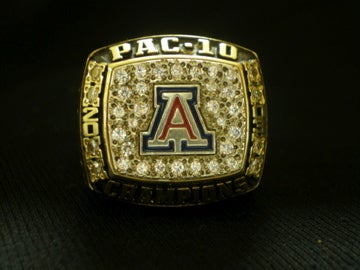 It might be hard to remember, but the University of Arizona was once home to a highly respected college basketball program. The 2002-2003 season in particular featured a tremendous team, including players like Andre "Iggy" Iguodala, Channing "Ham Sandwich" Frye, Will "Thrill" Bynum, Luke "Lookout" Walton, Isaiah "Extra Cream Cheese" Fox, and my favorite neighbor, Salim Stoudamire. However none of those notables had their Pac 10 Championship ring up for auction over the weekend.
That honor belonged to Lute Olson's third biggest mistake, Chris Dunn (behind Kevin O'Neill and remarrying). The lanky (terrifyingly skinny) wing was a high school star at Hobbs in New Mexico before failing out of Arizona while redshirting. Dunn attempted to keep his career alive by transferring a few miles down the street to Pima Community College (Go Aztecs!). Eventually Dunn's long frame disappeared from Tucson, apparently bound for another community college back home in New Mexico.
All that was left of Dunn's career as a Wildcat was this beautiful diamond ring, and now it belongs to "gotchampionshiprings" (Shark, is that you?) for the bargain basement price of $860.
2003 ARIZONA PAC 10 GOLD CHAMPIONSHIP BASKETBALL RING
via GoAZCats, which has crashed under the tremendous weight of Chase Budinger's announcement to return for his junior season.