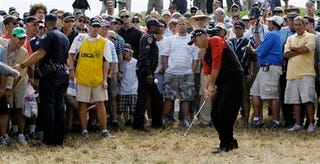 As they approached the 12th hole at Torrey Pines, Johnny Miller and Dan Hicks appeared down on Rocco's chances. He'd lost a shot on ten, gained it back on 11, but, still, seems completely out of this thing down by two shots with six to go against Tiger.
Rocco's disposition has changed; he's no longer the smiling, wise-cracking everyman, now he's just a man laboring through the final round waiting for a merciful death. Or is he? Tiger's second shot on 12 resulted in his first audible "Goddammit!" of the day and a disgusted club toss. Rocco saves par.
Rocco is one shot down after 12.
Here's Rocco during happier, less pressure-filled times at last year's World Series Of Poker.
US Open Liveblog [Yahoo!]
Live blog, Old School [OobGolf]