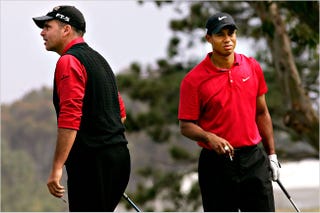 "You are watching one of the greatest U.S. Open championships in history..."
In an interview before the final round, Rocco told NBC Sports that he would probably "just quit" if he won the U.S. Open. It's his favorite championship, but one that hasn't been too kind to him in the past. In fact, no majors have been kind to Rocco. And Tiger, who was supposedly unbeatable when he had the lead after three rounds, kept leaving plenty of opportunities for Mediate to have hope.
Rocco was the 158th ranked golfer in the world coming into Torrey Pines on Thursday. With a victory today, he would hold the record as the lowest ranked professional ever to be a U.S. Open champion.
Going into the 18th hole, it was a win-win situation for any sports fan. With Tiger down by one, you could witness another comeback, another testament to his dominance, and all of those crazy eagle putts on Saturday and the huge 12-footer yesterday have more significance. But if Rocco wins, you witness one of the greatest upsets in professional golf history.
Going to sudden death...
Hole-by-hole [Yahoo!]
Live Coverage [Golf.com]
Woods And Mediate Battle For U.S. Open [NY Times]