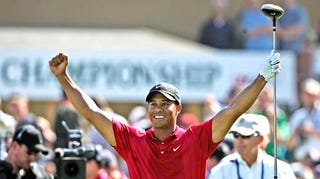 The seventh hole of Torrey Pines decided the fate of Rocco Mediate. Rocco said before the hole, "They wanted a show, they got a show." Indeed. It seemed before today's round, most of the experts were giving Rocco about as much a shot at beating Tiger as Matt Lauer. He proved everybody wrong.
Tiger's drive hugged the fairway line; Rocco's fell short and landed in the bunker. Death looks sudden for Rocco. He needed a miracle. It didn't happen. Rocco instead booted his bunker shot against the cart path and slowly slipped one foot into the body bag.
If anything, this match-up has secured the U.S. Open as the most watchable and exciting tournament in golf. It won't be like this every year. Actually, it'll probably never be this good again.
Years from now, this U.S. Open will probably be best remembered for Tiger's heroics — the eagles, the histrionics, the ridiculous chip-in, and the pressure-packed putt he sank to force a playoff. Rocco Mediate will most likely be forgotten after this year.
For Tiger, this is his 14th major. Whoopity shit. .
Live coverage U.S. Open [Golf.com]
Hole-by-hole [Yahoo!]