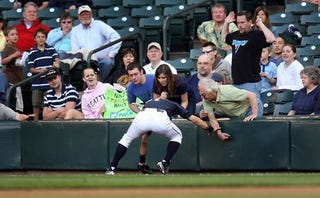 Baseball's biggest upset so far this season? How Mariners manager John McLaren outlasted Mets manager Willie Randolph. Of course the Mariners did fire general manager Bill Bavasi on Monday, replacing him with associate GM Lee Pelekoudas, who will serve on an interim basis. Meanwhile, Seattle is 22 games under .500 — the worst record in baseball — after Monday's 6-1 loss to the Marlins. And they have to fend off their own fans to make plays in the outfield, which is sad.
Andrew Miller went seven strong innings to earn the win for Florida; the Mariners' eighth loss in a row. Before the game, McLaren moved Ichiro Suzuki to right field, where he hasn't played since 2006. This left Wladimir Balentien out of the mix, and he was sent to the minors; Seattle calling up catcher Jeff Clement to take his place. McLaren's quote on all this: "We needed some pop in our lineup." Some pop? Isn't that something you say when you're three games out of first in August? The Mariners need the nuclear explosion from the current Indiana Jones movie. This all has to look really appealing to Ken Griffey Jr., doesn't it?
• Phillies Phite Back. Ryan Howard had two homers, Jimmy Rollins had one and Cole Hamels (7-4) went seven innings for the win as Philadelphia beat Boston 8-2.
• Rant On, Hank. Rant On. The word on Chien-Ming Wang isn't good; the Yankees' pitcher is going to be out until at least September after suffering a sprained foot while running the bases on Sunday. Hank Steinbrenner's reaction? He of course blamed the National League. "My only message is simple. The National League needs to join the 21st century," Steinbrenner said in Tampa, Fla. "They need to grow up and join the 21st century. Am I (mad) about it? Yes. I've got my pitchers running the bases, and one of them gets hurt. He's going to be out. I don't like that, and it's about time they address it. That was a rule from the 1800s."
• Wizard Cat Defensive Player Of The Day. Jose Lopez, Seattle Mariners. Diving stop, throwing out the runner from one knee; these are things that make Wizard Cat smile. Or would, if cats could smile. They can't. Wizard Cat gives this play: Three wands.
Contact Wizard Cat at Wizardcat@live.com