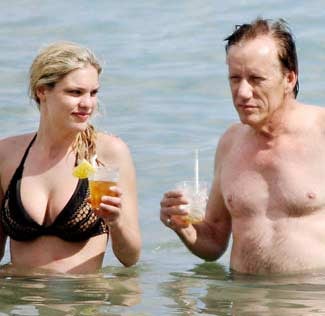 David Ortiz is still recovering from his injury — he won't be back for a while, but at least the cast is off — so he's keeping busy the only way he knows how: By hanging out with the crazyman that is James Woods.
Over sushi no less!
James Woods, star of the hit CBS television show "Shark" and Red Sox slugger David Ortiz [were spotted] noshing on some sushi and other Asian creations at Shrine at MGM Grand at Foxwoods.
We can't fathom what those two would have to talk about it, but because it's a slow pre-NBA finals today, allow us to revisit our favorite James Woods story. We have no doubt that, in the future, David Ortiz and James Woods will continue to keep America safe.
Big Papi Has James Woods [Red Sox Monster]