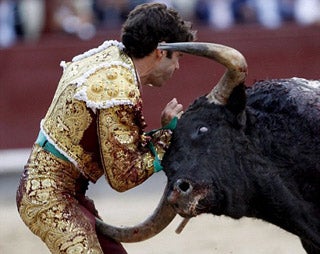 For those considering a career in bullfighting, please feel free to use this as your screensaver. One of Spain's big shot matadors was gored not once, but twice; including this most excellent shot by a bull who obviously knows what he's doing. And so Jose "The Balls" Thomas is forced to choose a new nickname.
The 32-year-old, who is widely considered one of the best bullfighters of all time, was competing at the Las Ventas bullring in the Spanish capital when he sustained his injuries. Tomas, who received medical treatment at the scene, sustained one groin injury that looked exceptionally painful.
Of course a torn scrotum is a small price to pay for the thrill of dressing in a completely ridiculous, skin-tight outfit and torturing animals.
More photos? Oh there's more, all right.
Superstar Matador Gets Gored By Two Angry Bulls [Daily Mail]