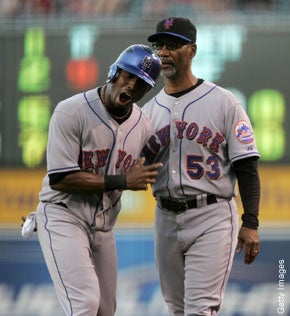 So why did the firing of Willie Randolph occur so late on Monday night (Tuesday morning, actually)? Turns out that Mets general manager Omar Minaya actually flew to Anaheim, checked in to the team hotel and waited to deliver the news to Randolph person.
From AP: Minaya said he made the decision Monday — a day after the Mets traveled to California after a doubleheader split at home with Texas — and stressed it was his alone. He met with Randolph after that night's 9-6 win over the Los Angeles Angels left the Mets at 34-35. "I think he was resigned to it," Minaya said. "When all is said and done, I think he was relieved."
Minaya said it would have been disrespectful to fire a manager while he was still in uniform. Instead, Minaya said he waited to talk to Randolph away from the ballpark. "11 p.m. at night, after a game ... standard procedure in letting a manager go in this game," he said.
Yes, firing a manager in his pajamas is a tradition as old as baseball itself. But anyway, regardless of how you feel about the dismissal (don't ask the New York Post), Jerry Manuel is your new Mets skipper. And his administration began inauspiciously on Tuesday, as the Mets committed three errors and got only six singles in a 6-1 loss to the Angels. Plus you have a bizarre temper tantrum from Jose Reyes, who singled in the first and was then removed from the game by Manuel, who noticed that he seemed to have a leg injury. Reyes threw his helmet against a dugout wall as he departed. And now, the post-game comedy stylings of Jerry Manuel: "I made it through. I'm going to have to sleep in this uniform, though.'' John Lackey (4-1) gave up six hits over 7 2/3 innings and Torii Hunter had a two-run double for the Angels.
• Whiff Of Despair. Chase Utley, Ryan Howard and Pat Burrell finished 0-for-12 with eight strikeouts against three Boston pitchers, with starter Jon Lester earning the win as the Red Sox beat the Phillies 3-0. Lester struck out five over seven innings and Coco Crisp homered.
• Craig Counsell Smash Puny Humans! Ryan Braun hit two homers and teammate Craig Counsell had one – the 35th of his 13-year major league career — as the Brewers beat the Blue Jays 7-0.
• Yankees Are Officially 'Surging'. Jason Giambi had two homers and Alex Rodriguez had one, with Andy Pettitte throwing seven strong innings in the Yankees' 8-0 win over the Padres. It was New York's fifth straight victory, and 10th in 13 games. The Yankees are 38-33, 5 1/2 games behind first-place Boston in the East.
• Wizard Cat Defensive Player Of The Day. Carlos Gonzalez, Oakland Athletics. The Diamondbacks are probably regretting trading Gonzalez out of their farm system after he reached over the right-field fence on Tuesday to rob Stephen Drew of a homer in the eighth. Originally awarded three wands, a comical car crash sound effect was added as Gonzalez hit the fence, and now Wizard Cat gives this play: Five wands.
Contact Wizard Cat at Wizardcat@live.com