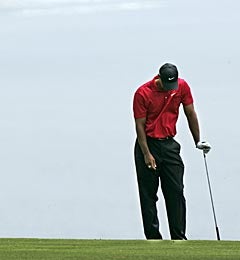 The PGA tour is now officially in trouble. Tiger Woods, athlete of the century, god amongst golfers and multi-blade razor pitchman, will have knee surgery to repair a torn ACL that will keep him out the rest of the 2008 season. Tiger, taking a break from having acrobatic intimate relations with his Swedish wife on a large pile of $100 bills, broke the news to his fans via whomever he has hired to type words on his website:
"While I'm obviously disappointed to miss the remainder of the season, I have to the right thing for my long-term health and look forward to returning to competitive golf when my doctors agree that my knee is sufficiently healthy. My doctors assure me that with the proper rehabilitation and training, the knee will be strong and there will be long-term effects."
Good to know that Tiger's world will continue to spin on its axis. The PGA, however, will most likely lose a large portion of its fanbase not ingesting daily doses of Centrum Silver vitamins. Also, as the L.A. Times points out, it could have a huge impact on tournament ticket sales, the stock market and sports media. One person who remains optimistic is a fellow named Neil Pilson, a sports media consultant and a CBS executive:
"Golf will survive and do very well without Tiger Woods. But at some point people have to understand that Tiger isn't going to play forever. It's a natural phenomenon and we're all aware of it — advertisers, sponsors, golf tournament directors and other golfers."
Neil Pilson's glass is so half-full that he might very well drown.
Tiger Woods to miss rest of season with torn ligament [Yahoo!]
Possible absence of Tiger Woods would have ripple effect [LA Times]