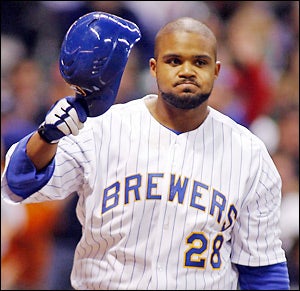 Do you owe back taxes you can't pay? Don't let the IRS freeze your bank account, or threaten your job. Call the law offices of Moskowitz and Moskowitz and let our tax experts show you a way to settle your IRS problems for pennies on the dollar. Run and hide, and face jail, or call us today. Vegetarians welcome. This just in: The IRS says that Prince Fielder owes $409,149 in federal income taxes. I guess the fruit indeed does not fall very far from the tree. Prince's father, former Tigers' slugger Cecil Fielder, also has notorious money problems.
Father and son share good genes, home-run power and, according to public records, financial issues. Four years ago, The Detroit News reported about how Cecil lost $47 million in career earnings through gambling and bad business decisions. The two reportedly have been estranged since Prince accused his father of keeping $200,000 of the son's $2.4 million signing bonus without permission.
The IRS filed a $409,149 lien against Prince on Oct. 6, 2005, for unpaid income taxes. Apparently it's from 2003, the year after he collected the above-mentioned signing bonus. Shouldn't your agent mention that tax thing? Um, Scott Boras, that's you, right?
IRS Slugs Prince Fielder With Lien [Detroit News]