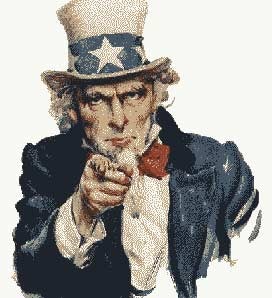 Tomorrow night in Ottawa, dozens of kids too young to legally drink will be drafted by professional hockey franchises willing to devote time, effort, and a boatload of money to turning them into Stanley Cup Champions. The NHL Draft will kick off Friday, and for that, we turn to Melt Your Face-Off, who will be liveblogging the first round.
It's that time of year again, folks. The time you've all most of a couple of you have been waiting for. The NHL Draft is a time when fans of teams from around the league can sit down together, and groan in frustration as your team slings loads of money to kids who have about a 50/50 shot of panning out. Reasonable Doubt will be taking you through the top forwards and goalies in the draft pool this year, and Weed Against Speed will take you through this year's stellar group of defensemen.
Forwards:
Obviously, this year's group of forwards is dominated by Steve Stamkos, who currently plays for the Sarnia Sting. Stamkos has largely been regarded as the best young hockey player in North America, being drafted first in the OHL Draft at 16 two years ago.
Last year, Stamkos lit up the lamp 42 times, over half of which were on the power play. He also gathered 50 assists and an astounding +13 rating. This for a team that only scored 251 goals all year. For those of you who can't do the math in your heads, that means he had a hand in a full one-third of all goals scored by his team. With the Tampa Bay Lightning in full-on rebuilding mode, drafting Stamkos will provide a young cornerstone to the franchise that they can rely on for both goal scoring and marketing. They've already gone overboard with the marketing part.
The other big name in this year's crop of forwards is Nikita Filatov. Filatov was regarded as a solid player early-on, but once the Under-18 Championships (nine points in seven games) last year and the World Junior Championships (again, nine points in seven games) this year has sent him to the top of the list. HockeysFuture has St. Louis taking him at #4 overall, but with the stellar bunch of blue-liners in this draft, he could fall to Toronto at #7.
Rounding out the top forward prospects are: Cody Hodgson (a solid guy who doesn't have the flash and skill the hyped up forwards do, but can play and grind his way to the goal), Mattias Tedenby (speed and skill make up for how small he is, can skate past you and score before you know where he is), Mikkel Boedker (73 points in 63 games last year), Colin Wilson (top NCAA Prospect out of Boston U), and Kyle Beach (Great player, but serious character issues as he's regarded as an extremely dirty player)
Defensemen:
This year's draft is a veritable bumper crop for blue-liners, at least according to TSN (and I do believe everything I read – word on the street has it that Florida is seriously considering drafting Bat Boy– yeah, I refer to the Weekly World News; as "The Paper", wanna fight about it?).
I began my research on the draft the other night over a quaint dinner out. Poring over all the stats, mock drafts and every half-wit opinion I came across, the night unfortunately ended up like this - in fact, I was wearing the very same suit coat as Farley – the very suit coat I was planning on returning.
Sure, I was angry, but as I dealt with the concussion and dry heaving, I realized the crown jewel of the draft as far as defensemen are concerned is clearly Drew Doughty, who will more than likely be taken as high as 3rd by the Thrashers and it is certainly not a stretch that the Kings may take him with the 2nd pick (screw you, Stamkos). Considering his impressive offensive instincts (50 points in 58 games at Guelph in the OHL) and the fact he is finally beginning to accept the reality that he has the ability to accomplish great things in the NHL; which has been illustrated by his more aggressive approach to conditioning and training (he has dropped at least 20 pounds this offseason).
Doughty is in tight competition for the best blue-liner in the draft with Zach Bogoisan (not to be confused with Eric Bogosian), although you could say they share a similar minimalist style in their approach to their craft – Zach plays right into his six-foot one-inch, 185 pound frame, and then some, in that the kid plays bigger than his size would suggest. He's a hard hitting, hard shooting competitor and has the talent to be a great point player on the power play that has the awareness to know when to crash the net, very similar Brent Burns of the Minnesota Wild.
Goalies:
Chet Pickard leads the list of goalies this time around, which, in all honesty, isn't that great. Pickard gets the nod here because he had a nice playoff run and backed up Carey Price last year, who became this year's wunderkind goalie for the Habs. But it's important to note here that Pickard had a solid D in front of him, whereas Price did not.
Following closely behind Pickard is Jared Allen, who led Canada to a goal medal in the World Junior Championships this year. He has what David Eckstein fans call clutchiness and grittiness, except Allen isn't four foot tall.
The next three to round out the big names are Jakob Markstrom (a Swedish goalie who has an enormous competitive attitude and has a penchant for making big saves), Thomas McCollum (the talk of the town two years ago when he lead the league in shutouts before he choked in the playoffs), and Harri Sarteri (clutch goalie from Finland who refuses to give second and third chances).
Of course, I'd be remiss if I didn't mention the goalie with the hottest streak of the playoffs, Dustin Tokarski. After racking up a .922 Save % in the regular season, he ratcheted up his game to an astonishing 1.38 GAA and .944 Save % in the playoffs, with a 1.72 GAA and .953 Save % in the Round-Robin Finals. Plus, the dude has some outrageous pre-game OCD antics.
Special thanks in this preview go to MYFO regulars wraparoundcurl and "Dave Schultz", who know more about Tokarski and Pickard than I could ever hope to. I'm told they're running some sort of Hockey Hottie contest, but my X Chromosome prevents me from talking about it any more.
That'll wrap up MYFO's preview of the Draft. Be sure to tune in Friday night to Versus at 8 PM EDT to watch, and follow along with our liveblog of the first round. So join the draft party of your choice, pop a cold one, and join us as we laugh at foreigners with funny names.