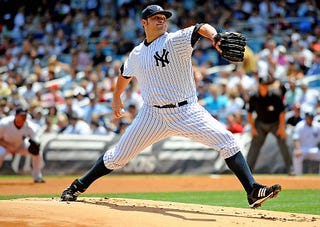 Joba Chamberlain pitched well, but didn't get the decision. Alex Rodriguez singled in the go-ahead run. Derek Jeter, his pillow wet from tears, was 2-for-3 with a run scored. The Yankees beat the Padres 2-1 on Thursday for their seventh straight win — New York's longest winning streak of the season — to move within five games of first-place Boston in the East, and remain 3 1/2 behind Tampa Bay in the wild-card race. Lil' Hank Steinbrenner is overjoyed. And we ask, what the hell is going on here? Are the Yankees really back in this thing?
Chamberlain went 5 2/3, Jose Veras (2-0) came in and pitched 1 1-3 innings to earn the win. Kyle Farnsworth worked the eighth to set up Mariano Rivera, who struck out the side in the ninth for his 20th save in 20 chances. Rivera didn't get his 20th save last season until Aug. 18.
• My Cub Runneth Over. On the day that White Sox GM Ken Williams "congratulated" the Cubs on the 100th anniversary of their last World Series title, (that hurt), Carl Crawford grand slammed them in a seven-run seventh inning to lead Tampa Bay to an 8-3 win. The Rays (43-29) have the third-best record in the majors behind the Cubs and the Red Sox. And they signed Tim Beckham on Thursday. The Cubs, meanwhile, announced that Carlos Zambrano would miss his next start.
• Johnny, We Hardly Knew Ye. John McLaren is out as manager if the Mariners. I knew this day would come (dabs tear). Jim Riggleman is in. Lee Elia is promoted to bench coach; one step closer to the manager's job. Wouldn't that be great? With this team, there'd be a profanity-laced tirade every day!
• Royals Kings Of I-70. It is the I-70 Series, right? Mark Teahen just missed hitting for the cycle (he didn't have a double) as the Royals, 7-2 in interleague play, beat the Cardinals 4-1 to complete a three-game sweep. Of course my contract stipulates that I must point out that St. Louis is missing Albert Pujols, Yadier Molina and several pitchers.
• Schilling To Get More Time To Blog. Curt Schilling will undergo shoulder surgery soon and will not pitch for the Red Sox this season. ""I'm not exactly sure [what type of surgery it's going to be]," Schilling said in an interview on WEEI. "We're still nailing down exactly what kind of surgery it's going to be."
• Wizard Cat Defensive Player Of The Day. Joba Chamberlain, New York Yankees. Oh Joba, is there anything you can't do? Note to Adrian Gonzalez: What kind of a slide is that? When the opposing pitcher is trying to block the plate you take him out, son! Wizard Cat gives this play: Three wands.
It's Friday, time for a very special expanded edition of Wizard Cat's Mailbag! (Wizard Cat is a cat, and cannot read. Letters will not be read to him.)
• Wizard Cat, I just got a snapple cap that says "Cats can hear ultrasounds". Please advise. — Roman Adler
• Dear Wizard Cat— So sorry for saying you were fucked last week for not recognizing the defensive, well, wizardry of CarGon. BSE
• Dear Wizard Cat, What are you doing friday night? Signed, Hello Kitty — Dan Heatley Speedwagon
• @Dany Heatley Speedwagon: You dethpicable little thlut! You thaid I wath your thole thqueeze! Trying to make a path at thome thinither thortherer? Thuffering Thuccotash. Thincerely, Thylvethter. — David Hume
• Yo yo Wizzy check this out. Five wands for Gonzalez jumpin up against a soft fence is scrate up stealin. Get right foh it get ugly up in here. — Rachael Ray Is The Devil
• Dear Wizard Cat, Will you be gracing the cover of the next Poof! Magazine? — Encouraging Referee Pitman
• Wizard Cat, I made a diving stop to help keep a shutout for my team, but isn't good enough for you. What do I need to do to get you to love me? All I want is to know that you are happy with me. Do you want me to dress up like Thor? I'll dress up like Thor if that'll get you to love me. Love, Alex Rodriguez — Jews For Purple Jesus
• @Jews For Purple Jesus: Dear A-Rod, In reply to your letter of 6/16/08, let me inform you that you are a bigger pussy than I. And I am a cat. A wizard cat. Respectfully yours, WC — Civil Negligence
• Wizard Cat, Please work some voodoo and help the Pirates at least play .500 ball in interleague. I know its asking for a lot, but I'm sick of this bullshit. Love, Pittsburgh Sports and Mini Ponies
• Wizard Cat, Can you wield your awesome powers over the college game? If so, please do not let an SEC team win. If I have to start hearing something puketastic about "SEC (bat)speed" I am going to have to end it all, or at least move somewhere where they don't play college sports, like Slovenia. Yours forever, amorphous
• I regret to inform you that Wizard Cat was killed by Snape. — Suntastic
• Dear Wizardcat, Kevin Mitchell heard you talkin' about him, and he didn't look too happy. Love, Doyle McPoyle
Contact Wizard Cat at Wizardcat@Live.com