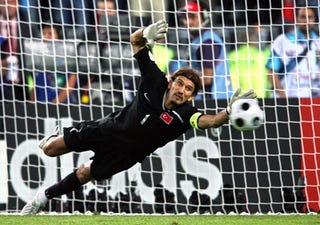 Turkey entered the knockout stage of Euro 2008 as the biggest underdog in the field, but yesterday they moved through to the semifinals in electrifying fashion. It appeared to be over for the Turks (especially to ESPN's Gamecaster) when Croatia's Ivan Klasnić netted a header to break the scoreless tie with a minute remaining in the extra period, but the action was just picking up.
Turkey pulled level moments later, with mere seconds remaining in stoppage time, when Semih Şentürk deflowered the Croatian goal with a drive from just inside the box. The knockout stage's first round of penalty kicks was won handily thanks primarily to Rüştü Reçber, the backup goaltender filling in for suspended Volkan Demirel, who stopped Mladen Petric's attempt.
Croatia compiled their problems by missing net a couple of times on their own, much to the dismay of their Nazi loving fans and at least one actual Nazi. The Turks will now move on to face the Germans, who know nothing of this Third Reich of which you speak. Unfortunately they'll be without four of their players, thanks to a suspension and an assload of yellows.
Now we turn our attention to what promises to be another thrilling match with the Netherlands taking on Russia in this afternoon's third quarterfinal. I'll be here to live blog both halves, because I sure as shit don't have anything else going on.