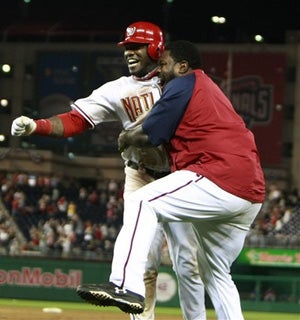 The Rangers (née Senators) and the Nationals (like the Senators minus Frank Howard) took 14 innings to decide things before Elijah Dukes delivered with his second walk-off hit of the month. Back on June 5th Dukes finally crossed the Mendoza line with four hits, including a 10th inning game-winning homer, and last night was just as good. The oft troubled outfielder finished the night 5-6 from the plate, raising his average to a season high .270, a 67 point rise in just 14 games. The Nats trailed 3-2 in the eighth inning when Dukes tied things up with his second home run of the season, and the bullpen took over from there, with Joel Hanrahan picking up his third win.
• Cito came back for this? Cito Gaston's return to the Blue Jays was spoiled by a walkoff error that resulted in Pittsburgh's one and only run of the 12 inning game. As if that wasn't brutal enough, the two time World Series winning manager was also forced to watch Roy Halladay take a line drive to the temple. The team's most valuable player left after the game after seven scoreless innings, yielding just eight base runners while striking out seven. The utterly perplexing Zach Duke matched him step for step, and his bullpen held up their end of the bargain. The game's lone run came after when Jason Frasor loaded the bases in the bottom of the 12th inning, beginning with a double to Doug Mientkiewicz. The ball-stealing first baseman scored when John McDonald botched a grounder from pinch hitter Jason Michaels.
• Mets Win, Avoid Cutting. If Jerry Manuel's Mets can keep things going in this direction it's only a matter of time before we see more knife-wielding managers and coaches in sports*. John Maine was touched up for two quick runs in the bottom of the first, but his teammates fired back with five runs on a season high seven hits in the next half inning. Maine cruised from their, yielding nothing more to a Rockies team that came in having won three straight games.
*Wade Phillips carries a knife at all times, but it is only used for steak related purposes.
Image courtesy of the AP via Yahoo! Sports.