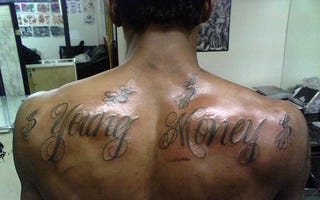 Brandon Jennings is arguably the best incoming freshman in college, that is, if he ever sets foot inside Arizona's Mckale Center. Young Money has told Andy Katz that he if things don't go his way, he's prepared to spend a year playing professionally in Europe before entering the NBA Draft.
Jennings is a truly unique talent who can score and facilitate on the offensive end like few others, but some issues with standardized tests could keep him from replacing Jerryd Bayless in Tucson.
Jennings said he will get his standardized test results back next Thursday. This is the third time he has taken a standardized test. Jennings said he was red-flagged for a jump in his score from the first to the second test. He said he didn't know his scores.

"The first time I took it I didn't try, the second time I did so I had to take it a third time," Jennings said.
God damn, I fucking hate the NCAA. When Chase Budinger announced he was returning to school I thought the program could take a big step forward, but this would be disastrous.
Katz is also reporting that Jennings is due in Tucson to begin summer school, although the Summer 1 started two weeks ago, and the second session isn't until mid July.