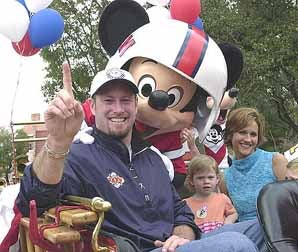 As you read this I am speeding toward sunny Lake Tahoe, cranking the Beach Boys, with a big nasty redhead at my side (wait. Am I Randy Newman?). But already there's news from there in my absence. Trent Dilfer, perhaps the worst quarterback to ever earn a Super Bowl ring as a starter, announced on Wednesday that he is retiring. He tore an Achilles recently during a game of pickup basketball and decided enough was enough (and unlike Mr. Favre, he won't be back). Dilfer is a fixture at the American Century Celebrity Golf Tournament — he owns a house at Tahoe — and actually seems more bummed about missing that event than he does about leaving football.
"I'm heartbroken that I won't be competing in the American Century Championship," Dilfer said during a teleconference call Wednesday. "It's ... the best week of the year if you're not playing in the Super Bowl. I injured my Achilles' while I was on vacation with my family. I was going to retire anyway. This just gives clarity to the situation. There will be a formal announcement in the next few days about that."
The decision may have had something to do with the fact that he's a free agent this season, and no one had signed him. He played with the 49ers last year, appearing in seven games. Whatever you think about him as a quarterback, Dilfer has impressed me as a really good guy the few times I've met him, and has dedicated himself to raising money for a number of charities over the years. So there's that.
And so as we say goodbye to Mr. Dilfer, let me leave you with a look at the colorful golfing attire of another ex-quarterback, Mr. Jim McMahon. See you on the links.
NFL Quarterback Trent Dilfer Announces Retirement [Reno Gazette Journal]