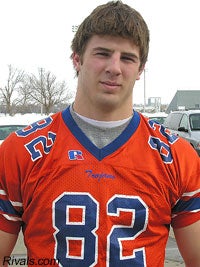 Iowa football, it's safe to say, finished the season on a bad note, losing to Western Michigan. So they went out and recruited like crazy, landing guys like South Dakota football star Riley Reiff, a defensive end. His quickness and explosion should impress the coaches, especially since this weekend he was able to shed some of his clothes and run away from eight officers.
Reiff was approached late Friday night/early Saturday morning by officers, who said he was "disoriented" and partially nude. He refused a blood alcohol test, and when the officers were distracted for a minute, perhaps by the "hey look over there" gambit, Reiff began a chase that lasted for 20 minutes, and took eight — EIGHT! — policemen to finally catch him.
At one point he tried to escape through a Pita Pit restaurant, in which several trays were comically knocked over. This has to be a good omen for Iowa's 2008 season, because if he was drunk and disoriented, and he was still able to break free for 20 minutes, drawing the attention of eight peace officers ... imagine what he could do on the football field, sober.
Iowa Football Player Pleads Guilty After Downtown Chase [GazetteOnline]
Recruit Leads 8 Officers On Chase [Des Moines Register]