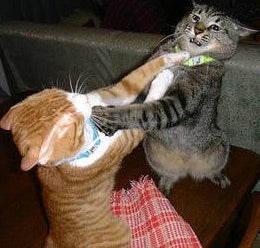 If the concept of Ohio depresses you, at least the cities of Cleveland, Cincinnati, Youngstown, and Toledo all lie on or near the state border, opening up hopes and promises of other states. But Mid-Ohio? That's a lot of driving to exit the state, and driving in rural Ohio is a good way to lose one's mind. Racing in Mid-Ohio can't be much more exciting, given that I'm sure state troopers patrol the speedway to make sure you don't go over 65.
And the Mid-Ohio madness finally got to Danica Patrick at this weekend's IRL practice session, because she snapped at Milka Duno, a.k.a, the female racer who has remained neutral on where we should by our Internet domains.
After getting out of her car, Patrick walked to where Milka Duno, the only other woman in this weekend's race, was pitted and confronted the driver about getting in her way several times during the practice.

The confrontation lasted about a minute, but witnesses said was heated and that Duno flung a towel in Patrick's direction as the two exchanged words before Patrick walked away.
Having witnessed many arguments between women in Ohio, it's safe to say that "getting in her way" meant these two were probably fighting over me. I'd be honored to put an amiable end to this scuffle by saying that it probably won't work out between either of them and myself. Long distance relationships are the fool's gold of romantic treasure. They're even worse, than, say, assuming a girl likes you when they really don't even know you exist.
Patrick Has Another Confrontation, Another Mediocre Starting Position [Washington Post]