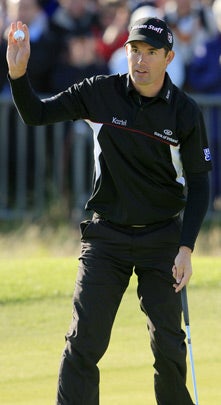 All weekend the world was talking about Greg Norman's resurgence, briefly forgetting what he normally does on Sunday. (Fortunately, he reminded us almost immediately.) Then for about 10 minutes the hot golfer was Britain's Ian Poulter. Even for a split second, Jim Furyk's finish of +10 might have been good enough for a playoff. Then we remembered Padraig Harrington was the guy who won The Open Championship last year, and when we didn't believe him, he just had to go and win the thing again. So I think at least every major English accent was the frontrunner this weekend. Consider it a victory over the Romance languages.
For a goofy tournament, it sure was anticlimactic at the end. Harrington won by four shots, nailing the eagle on 17, finishing his final round under par, and going +3 for the whole tournament. Just three over? The low score kept rising up, and at one point I felt it would have been somewhere around +10. Greg Norman didn't get that memo. He finished tied for third at +9, but I don't know if anyone's too disappointed that he blew it. It was just sort of cool to see his name again at the top.
But don't worry, pentagenarian golf fans. Maybe a fiftysomething will win the upcoming PGA Championship, which starts in a few weeks just north of Detroit.