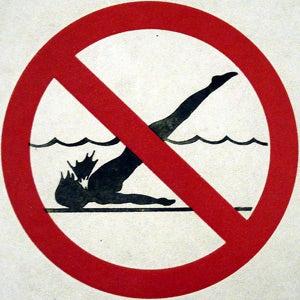 If you were wondering where Daric Barton was when Oakland was playing the Yankees this weekend (who of us wasn't?), well he wasn't playing because he got hurt during the All-Star break. The rookie first basemen has a lot to learn about how to dive into swimming pools.
If you see a diving board, it's probably save to jump in head first. If you see little kids happily paddling along with out those orange floaties, it's probably a bad idea to jump in at all. The A's rookie first basemen misjudged the depth of a local pool, resulting in a stiff neck and a split-open head that required six staples.
Barton's staples are clearly visible at the top of his head. He was told that he will be left with a sizable scar and that the hair around the scar will not grow back. He still plans to keep his buzz cut, though. "I'll tell people someone hit me with a 2-by-4," he said.
Considering A's GM Billy Beane is the snake oil salesman of midseason trades, something tells me that despite the head wound, he'll be able to deal Barton to a team for three quality prospects, citing that the scar on his head strengthened his determination to win.