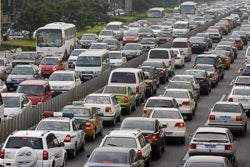 You there. Yes, you. Don't you love freedom, apple pie, and John Mellencamp-crooned commercials? Of course you do. But you also hate traffic. "Oh God, everyone else driving is such an idiot! If they watched where they were going, I wouldn't be running behind, so I better call my friends and tell them I'll be late."
Too bad you don't live in China, where Wikipedia entries on Hentai porn may be spurious at best, but at least they've found a way to cut down on traffic and pollution for the upcoming Summer Olympics. Only half the cars can be in operation on a particular day.
Under rules that will last from July 20 to Sept. 20, owners of some 3.3 million private cars can drive only on alternate days, based on whether the last digit of their license plates is even or odd. Those in violation face a $14 fine, a significant amount for most Chinese.
Just imagine if they did this in cities that hosted Super Bowls, World Cups, and permanently in Miami. Traffic would be so much easier to deal with. In fact, we all might have enough wiggle room in the passing lane to check e-mail on our BlackBerries. ♬ This is ooour country ♬
China Restricts Car Use To Combat Air Pollution For The Olympics [Los Angeles Times]