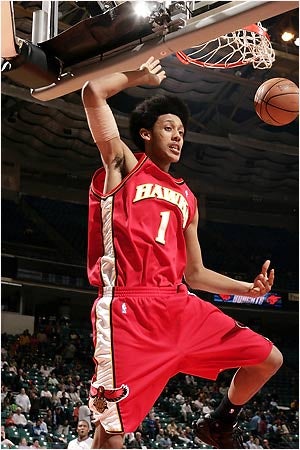 In the latest sign of American hoops hegemony showing some weakness, fivetooltool points out that several NBA players are returning to Europe because they can get better contracts there. Why? Partially because of the increasing value of the euro relative to the dollar.
Right now one euro is the equivalent of $1.58. That compares with one euro being valued at around $1.10 back in December of 2003. So European players currently playing in the NBA have seen their salaries decline fairly substantially in the past five years relative to their home countries' currency. Why does this matter? Simple, it means that European basketball teams have become much more competitive with the NBA when it comes to salaries. More competitive than they ever have been in the past and they haven't had to undertake a single iniaitive to make that happen.
And you're starting to see mid-tier players take note of this fact. As fivetooltool notes:
Carlos Delfino is a reasonable back end of the rotation option, a point with size who can defend well enough to get minutes in Detroit a few years ago. He doesn't score well enough to be anyone's idea of a great starting option, and he's too old to have breakout potential, but he's still someone who could play 15 to 20 minutes a night for a playoff team.

He's also someone that's going to make the equivalent of nine million dollars to play basketball next year... in Russia, for Khimki BC.
In conjunction with Delfino's signing, Yahoo Sports reports that Josh Childress is considering a three-year $20 million dollar offer from a Greek team. Effectively this is more money than Childress could receive from the Hawks and it also raises some interesting competitive balance questions. Namely players being able to step outside the NBA and receive more money than they can in a slalary-capped NBA.
David Stern wanted the NBA to be a global game and he got his wish. But what if the value of the dollar means that instead of poaching the best talent from around the globe, the NBA starts being poached instead? Interesting thought to keep in mind as the dollar continues to fall. We all could see this coming once partial NBA owner Jay-Z started to flash Euros in his videos. As Josh Childress goes, so goes the NBA.
The Euro Menance [Fivetooltool]