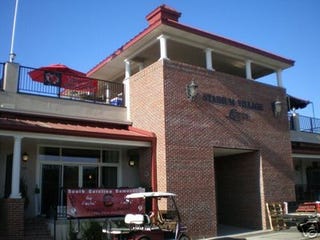 Do you see what they've done there? They've combined condominium and cock. Which usually only happens on South Beach. Anyway, the condo craze came to Columbia, South Carolina and condo towers went up around the wasteland that is Williams-Brice Stadium. But it seems the real estate market is not as robust as anticipated.
As a result 40 cockominiums are going up for auction on Saturday. 10 of these units have no reserve so get your carpetbags packed. How did this happen? Well, The State knows.
A building frenzy that would result in more than 400 condos by Williams-Brice kicked off in early 2005 when developers broke ground on The Spur. It was one of the best years on record in Columbia for real estate sales. Three more cockominium developments were started that same year.
Man, cockominium's aren't even selling now? What's the world come to?
Stadium condos going to auction [The State]