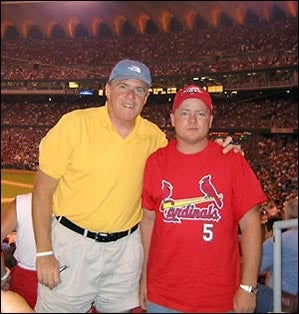 Congratulations to Mary Beth King, daughter or Peter King, target of KSK's ire, on her new internship.(This photo is not of King and his daughter — I hope.) Of course, PK writes about this internship in today's Monday Morning Quarterback column and her position may create another moral quandary for the Kings, this time not involving Mary Beth's drinking habits at Colgate:
I think in the interest of full disclosure, I want to report that my daughter, Mary Beth King, has taken a PR internship with the Seattle Seahawks for the season. It's going to sound hollow to say I had nothing to do with it, but I didn't. She applied without telling me. New family rule: Mary Beth does not share conversations with Matt Hasselbeck or Mike Holmgren with her father.
That's refreshing that King didn't have anything to do with landing his daughter a job but isn't there a conflict of interest, at some level, still there? And does a "new family rule" precluding any Seahawk talk around the King family dinner table really eliminate it?
What's left out of this column is what exactly Mary Beth will be doing in the PR department. If she's refilling water jugs and doing other mindless work, it's probably not a big deal. But if she's mailing out press releases or involved in promotional events directly related to the Seahawks organization, it's a bit slippery, especially given that Mary Beth is central figure in many of King's columns. Granted, King will be smart enough not to slyly sneak in a little blurb about Lofa Totupu's Adopt-A-Kitten drive or whatever, but, in some ways, it'd probably be best to keep Mary Beth's daily activities out of MMQB until after she's completed her internship.
Peter King: MMQB [SI]