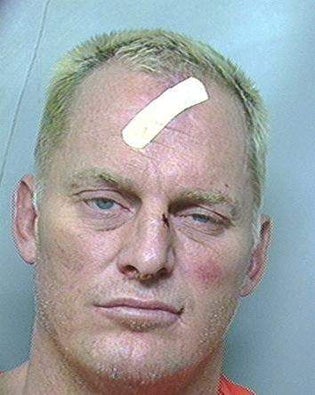 You might remember Sandman for his mid-'90s ECW feuds with Tommy Cairo and Raven, or the infamous Singapore Caning. But these days, James Fullington is branching out. He was arrested on Sunday night after a spree of drunken mayhem, which included throwing an entire tray of beer glasses at the police. They tend to frown on that.
Employees at La Lanterna, 23 Grey Oak Ave., called Yonkers police at 9:45 p.m. and when they arrived James Fullington, 45, aka "The Sandman" was still flinging glasses from a tray at employees, Yonkers police Capt. Daniel Daly said today. As police moved in to stop him, the 6 foot 4 inch and 280 pound Fullington threw several glasses at the officers.

Two police officers, Jessica O'Dell and Frank McDonald of the First Precinct, suffered cuts to the hands and arms. Fullington, a resident of Wayne, Pa., was finally subdued by police and charged with second-degree assault, a felony, third-degree criminal mischief, a felony, second-degree reckless endangerment, a misdemeanor, and resisting arrest, a misdemeanor.
Anything sadder than a former wrestler, now in his mid-40s, starting a drunken brawl in a Yonkers bar on a Sunday night? Anything?
Wrestler Known As The Sandman Arrested In Yonkers Assault [The Journal News]