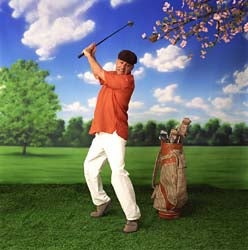 Just think, this happened on a Seattle golf course. There's probably not a safer place to be in America. Slow play was the initial instigator of the six iron assault by Nicholas Shampine, 33. We quicklinked this story last week but new details have emerged today thanks to the intrepid reporting of Seattle columnist Jim Moore.
The victim, James Compton, complained about the slow play of Shampine's group in front of them and eventually the tiff escalated to the point where the victim's party made noises while the group in front of them attempted to tee off. It all came to a head on the 15th tee when Nicholas Shampine blindsided Compton with a six iron to the side of the head. Nicholas Shampine is now contrite. Probably because he faces several months in jail. His brother, Greg Shampine, not so much. Per the Seattle newspaper:
"The guy didn't deserve to be put in the hospital and didn't deserve to almost be killed," Greg Shampine said. "But he did deserve to get his (behind) kicked because he was asking for it. It was not as one-sided of an assault as it's been made to sound. ... You mess with the bull, you get the horns."
Or you mess with the bull, you get the six iron. One or the other.
Golf rage incident extremely stupid {Seattlepi.com]