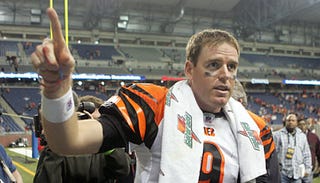 We all know he was being honest when he said Ohio State fans sucked. You can agree or disagree with the statement but at least it was honest. Now, predictably, Palmer has backtracked from his statement and isued a new one regarding Ohio State and their fans. Have we really reached the point where quarterbacks have to behave like politicians and issue statements we know they don't actually believe? Yep.
In a statement, Palmer said, "I'm a Trojan all the way, and I was talking to a Trojan audience in California. I guess I got a little fired up, as all good fans will do. But I really do respect the Buckeyes, and I know their fans are passionate, too.

"I hope they all understand I'm just looking forward to a big game for my school against a very tough opponent, and that it's all in the good fun of a rivalry. You don't have a real rivalry unless both sides are great teams."
So now everyone who appreciated Palmer calling out Ohio State fans is pissed and every Ohio State fan still hates Palmer. Well played. In other news Carson Palmer also likes babies, hopscotch, cornhole, Cincinnati race relations, and the cadaver whose ACL he models.
Palmer backs of bashing Ohio State [The Sporting News]