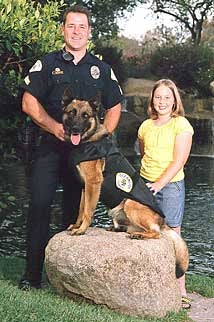 No longer content to continue reading about brave police dogs who died because they weren't wearing vests, Tony Stewart has come to the rescue. The vests cost $695 each. If you didn't know that police dogs wore bulletproof vests then you roll with Chris Samuels and Clinton Portis and hate animals. Stewart's gift will be spread among dogs in five different states and will go a long way towards prospectively repairing his image when he gets in his next pit row altercation.
The vests come courtesy of a charity founded by Susie Jean of Socorro, N.M. Per the AP:
"Jean founded Vest 'N P.D.P. (Police Dog Protection) Inc., a nonprofit that collects donations to purchase bullet- and stab-proof vests for police dogs. So far, the nonprofit has provided 169 vests to police dogs in 22 states, not including the Stewart donation."
So far Jean's charity has not saved a single dog's life. Or maybe it has, hell if I know.
Stewart donates bulletproof vests for police dogs [USA Today]
Tony Stewart: Patron Saint to Police Dogs [Epic Carnival]