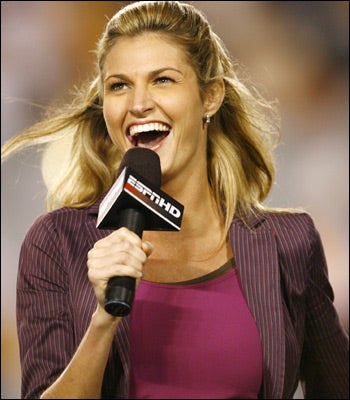 First it was Jenn Sterger (kind of), now a Cincinnati radio host is unleashing his own Erin Andrews attack, after America's sideline princess apparently snubbed Kentucky-based radio host Alan Cutler for a scheduled interview. Here's the sic-filled report courtesy of 1530 Homer(The Sports Animal!) mid-day radio host "Mo":
Erin was supposed to be on the air with my friend and colleague Alan Cutler yesterday morning. She stiffed him. She was supposed to be on again today. Again, she refused to answer her phone. These things happen, though I usually think enough of the commitments I make that if I say I'll be somewhere, I answer the bell, and unlike Erin, the phone. Anyway, dogged in our pursuit of getting Erin on their air, I put Chuges the intern in charge of getting her on my show. He tried repeatedly, as any good reporter, including Erin, would. Chuges was relentless in his pursuit, calling regularly, leaving messages, and even sending a text. The number one rule in pursuing interviews is to battle any obstacles, including busy signals, miserable handlers, and someone not answering their phone.

Finally, Chuges' persistence was rewarded when Erin returned his call, but instead of going on the air and fulfilling her obligation to both us, and to the party who offered her to us, by doing ther interview, she proceeded to tell him that he was rude for calling her and then blamed Chuges for interrupting a conference call.
Ha. "Chuges." Goddammit Chuges!
Anyway, it's unclear as to how aggressive "Chuges" was while trying to wrangle Andrews for an interview, but if it's any indication by the tone of this post, it's possible that Chuges went a bit overboard. Granted, nobody likes getting stiffed for an interview, but shit happens. People forget. Schedules change. Sometimes phone calls cannot be returned.
Even to Chuges.
Erin Andrews Is Over [LOTD]