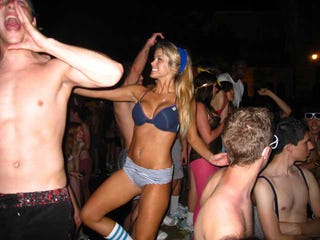 Having once lived in Westwood for 13 months, one would think that I would have noticed hundreds of UCLA coeds running around in their panties three times a year. But nope. The UCLA Undie Run was news to me when I read about it this morning (is this a relatively new phenomenon?). The latest installment occurred in June, marking the end of the Spring Quarter at midnight just prior to graduation. So thank you, LAist. Um, on second thought, screw you, LAist.
To say the least, the party was massively huge. It took just under 20 minutes for the thousands of students to get through the Strathmore tunnel. The event was so wild that LAist photographer Tom Andrews' camera came to near death in a water balloon fight (everything is okay now!), people were swinging from trees, the police put on their tactical/riot gear and there was a much more variety of happenings going on this time.
More Undie Run photos, including those from previous events — like the one below — right here.