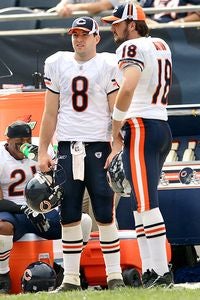 It's only July and already Bears fans are terrified. Who's going to start at quarterback: The mediocre bearded guy or the mediocre short guy? Well, even the players themselves can't decide. So they did what any reasonable, competitive football player would do...they flipped a coin. Cue the Chicago Tribune:
Also, Rex Grossman has won the starting quarterback job — for the first day of practice. There was a coin toss at a Wednesday morning quarterback meeting. Kyle Orton called it, but Grossman won it and will run with the first-team offense Wednesday.
The really surprising thing here is that the coin wasn't picked off.
Right now every Chicago Bears fan has a single, solitary tear rolling down his or her cheek. And no one blames you at all.
Williams agrees in principle, Grossman wins coin toss to start [Chicago Tribune]