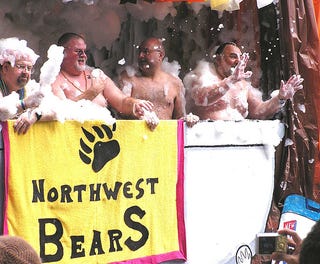 Here's an amusing story out of Washington involving an alternative lifestyle organization (The Northwest Bears) and the stuffy policies of the United States Olympic Committee. The Bears were busy promoting their annual summer campout which they originally dubbed "Kamp Kodiak 2008 Olympic Village," until they received a letter from a woman named Carol Gross, member of the USOC, who kindly informed the Bears that they were not granted permission to use any Olympic imagery (torches, rings) for their big hairy gay campout.
Gross was deadly serious, outlining the USOC's concerns about the usage and highlighted each specific instance wherein the NWBs were in legal violation, like "Refrain from using Olympic terminology in reference to the specific competitions by renaming such festivities as: Big Ass Bear Olympics with Dr. Bob and the Olympic Board Game Competitions."
The Bears eventually conceded, renaming their event "2008 Bear-jing." Lucky for them they chose to put "2008" first because, as Gross noted in her thank you letter to the Bears, "I am just as pleased that you have chosen the mark 2008 Bear-jing rather than Bear-jing 2008, as the latter would have been considered a simulation of our trademark: Beijing 2008, and would have also run afoul of our legislation."
Carol Gross could use a weekend rolling around with a few big hairy men. Just a hunch.

U.S. Olympic Committee Targets The Northwest's Large, Hairy Gay Men [The Slog]