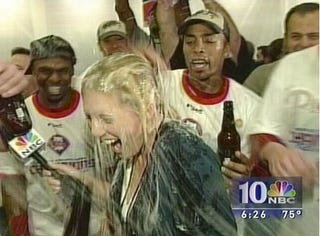 Yes, it's a bit premature to post this picture of last year's champagne-blasting of NBC10 reporter Jade McCarthy getting, hmm, soaked by the joyous 2007 Philles after they stole the NL East, but with last night's 8-6 victory still buzzing in my head it seemed appropriate.
Johan Santana did his Johan Santana-thing for 8 strong innings, only to be mysteriously lifted, opening the door for the Phillies to attack the Billy Wagner-less bullpen with brute force. Tough break for Mets fans (apologies and middle fingers to Jason Fry in equal measure) , but a fitting way to kick-off the illegitimate rivalry.
Tonight, Brett Myers comes back from his minor league deprogramming, apparently amped and ready to pitch like a man who's not an effective closer forced to be a mediocre starter. It's still July 23rd and even a Phillies sweep does not guarantee anything other than a temporary stay in first place, but a "cosmic gut-punch" to the Mets in the first game of this series does wonders for Philadelphia's latest inferiority complex.
Anyway, be well tonight, let the good light shine, etc.
Thank you for your continued support of Deadspin.
Things To Remember [Faith And Fear In Flushing]