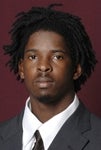 There might be a reasonable explanation for why Eastern Kentucky University wide receiver Davin Walker was shoplifting at Wal-Mart. Being a specialty player at a school like Eastern Kentucky (although Dan Patrick did play basketball there for two years) usually doesn't provide a livable income or expensive gifts from boosters. And there might be a legitimate reason as to why Walker, after getting caught by Wal-Mart security, tried to run and knocked over a 69-year-old woman in the process so violently that she almost lost part of her finger. He was scared, fearful of the consequences to his actions and reacted without thinking.
But what Walker was caught stealing (hey alright) is a cause for great consternation, even to those of us who may have at one point dated a woman so unclean that seagulls would nosedive at her feet the moment she stepped outside. According to the Richmond Register, the stolen contents stuffed inside Walker's backpack were "a cell phone battery charger, a box of douches and a bottle of feminine hygiene spray."
He may be better off in prison.
Grand Jury to hear football player's case [Richmond Register]
Eastern Kentucky Player Steals, Is, Douchebag [EDBS]