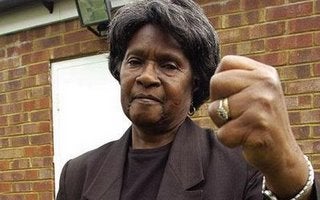 Now we know where Simeon Williamson — Britain's best hope for a medal in the 100-meter dash now that Dwain Chambers has been banned for doping — got his speed. His grandmother, 78-year-old Pearline Williamson, ran down a mugger in North London after her purse was snatched.
'When she took my purse I had to do something so I ran after her and grabbed her as hard as I could," Wiliamson, a mother of seven, said. "She said she hadn't taken it at first, so I shook the life out of her until she finally gave it back. It makes me so mad when people try to take your things."
Said Simeon Williamson, 22:
"She can be very friendly but also pretty scary when she wants to be – you wouldn't have wanted to be the thief. And there's no controlling her – you just have to stand back and hope she's all right as she doesn't think about the consequences."
Somewhere, Matlock is smiling.
Olympian's Granny Fights Off Mugger [ ]
Olympic Supergran Chases Down Thief [Metro.com.uk]