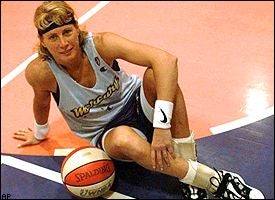 Or maybe not near you at all. What's important is that the WNBA is on fire. First the brawl, now an old chick who likes to wear headbands, works for ESPN, and is 50 joins the league. Nancy Lieberman will play for the Detroit Shock and, seriously, help to replace Cheryl Ford who was injured in the brawl earlier this week.
Just how old is Lieberman?
Lieberman won two college national championships at Old Dominion and was a member of two U.S. Olympic teams, winning gold at Montreal in 1976 and joining the roster of the 1980 team that would have gone to the U.S.-boycotted Moscow Games. She was inducted into the Hall of Fame in 1999.
She's so old she's still got beef with Moscow? This will end well, very well.
Shock sign 50-year old Lieberman to seven day contract [ESPN]